Reading Comprehension Text and Exercises
Tokyo
The City of Cherry Blossoms
No other city in the world accommodates more people in its metropolitan area than Tokyo. With more than 37 million residents, over a dozen different metro lines, thousands of cherry trees, and an active volcano of Mount Fuji lying on its southern outskirts, Japan's capital is an incomparable city.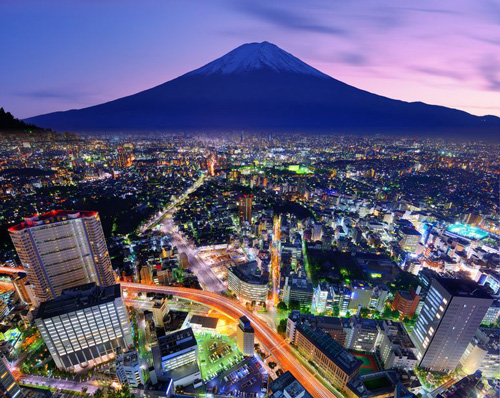 Click Here for Step-by-Step Rules, Stories and Exercises to Practice All English Tenses
A Brief History of Tokyo
The city of Tokyo was once a small fishing village called Edo. Over the years, a large castle was built in the village, so in 1603, Edo became the center of a military government.

Already in the 18th century, Edo's population topped one million. It was considered to be the actual capital of Japan, even though the Emperor of Japan lived in another city called Kyoto.

In 1869, Emperor Meiji was the first one to make Edo his permanent residence, which why the city was renamed Tokyo (meaning "Eastern Capital" in Japanese).

In the 20th century, Tokyo suffered two major catastrophes: a great earthquake in 1923, and heavy bombardments during World War II.

Yet, the entire city was rebuilt quickly after the war, and this was showcased during the 1964 Summer Olympics. As the city was developing, more and more people moved, making Tokyo the most populous and one of the busiest places in the world.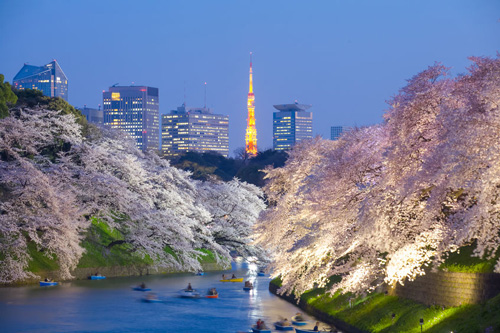 Attractions
The Temples of Asakusa
Two biggest religions in Japan are Shintoism and Buddhism, and Tokyo expectedly hosts a great number of religious temples. Some of the most notable ones are located in Asakusa, a part of the downtown Taito district of Tokyo.
Sensoji, the largest Buddhist temple in the city, is the main attraction in Asakusa. This temple is famous for its Kaminarimon (or "Thunder Gate") gate, decorated with a giant lantern and statues of two guardian gods. After passing this gate and the main Hozomon gate, the Kannon Hall, originally built in 628, stands crowded with worshippers.
In Asakusa, it is also possible to visit a Shinto shrine called Asakusa Jinja, where the Tokyo's largest festival Sanja Matsuri takes place every May, attracting up to 2 million visitors.
Chingodo Shrine, dedicated to tanuki, a raccoon-like character from Japanese folklore, is also situated in this neighborhood.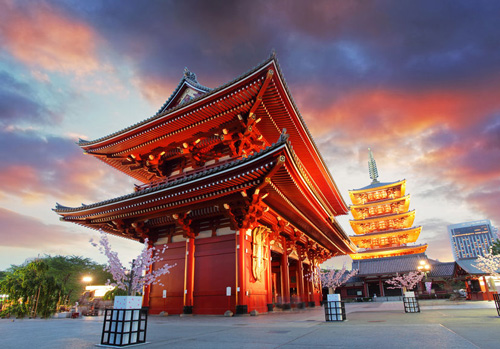 Imperial Palace
The long tradition of Japanese Imperial Family still continues, although these days the political power of the Emperor is limited and symbolic. The primary residence of the Emperor, called Imperial Palace, is located in Tokyo. Built on the site of the Edo Castle, the modern palace is mostly used for receptions and other imperial court functions.
The Imperial Family of Japan also lives in this complex, surrounded by the beautiful Eukiage Gardens. Special guided tours are allowed only two days a week, but every January 2 and on Emperor's Birthday (December 23) all people are invited to come in, where the Imperial Family greets them from the palace's balcony. Within the imperial complex, there are also several parks which are open to the public all year long.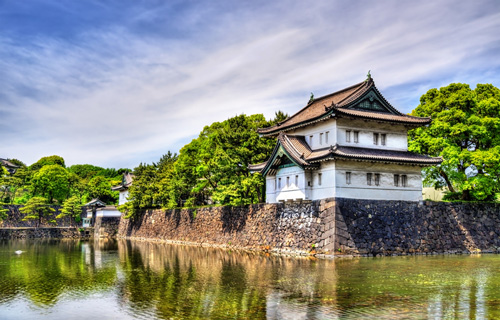 Meiji Shrine
Another top tourist attraction is the Meiji Shrine, dedicated to Emperor Meiji and his wife Empress Shoken. The shrine complex was built shortly after the emperor died in 1912, in a garden area the emperor and his wife used to visit.
The whole area is in fact a large forest, covered by more than 120,000 trees of 365 species, most of them donated by people from all parts of Japan. Besides the shrine, there is a treasure museum with personal belongings of the Emperor and Empress, a memorial picture gallery, and a memorial hall, nowadays used for Shinto weddings.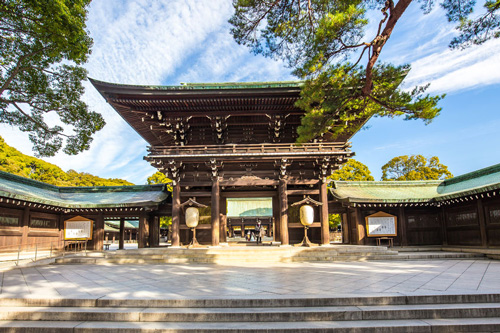 Cherry Blossom
What makes Tokyo especially beautiful is the old Japanese tradition of cherry blossom appreciation. In springtime, white and pink flowers of cherry trees, called sakura in Japanese, decorate the entire city.
The ancient practice of sitting and picnicking under a blooming sakura tree is called hanami. When the blossoms finally appear, the whole city goes out to celebrate. Cherry blossom is often presented as a symbol of Japan, especially on paintings.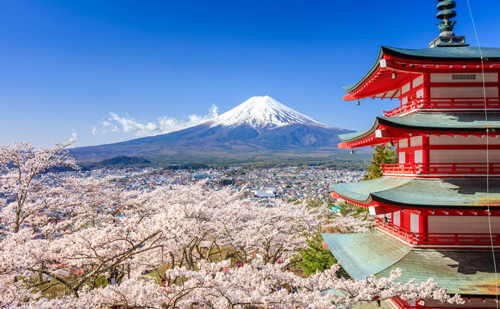 Things to Do in Tokyo
Tokyo is one of the few places in the world with a Disney-themed amusement park. Tokyo Disneyland includes many smaller "lands" or parks, based on children's (and adults') favorite cartoons such as Peter Pan and Snow White.

Considering that Tokyo is on an island, sea food is everyone's favorite. Visit the Tsukiji fish market to buy some of the freshest fish in the country. This market was originally built to provide food for the Edo castle, and it is now a recommended place to go to for a sushi (traditional Japanese rice rolls with fish) breakfast.

There are many green spaces around Tokyo. For a more active visit, go to Yoyogi Park, where many visitors play sports or practice their hobbies. The Shinjuku Gyoen National Garden, on the other hand, is perfect for long walks, with its breathtaking gardens, including a traditional Japanese one with a teahouse.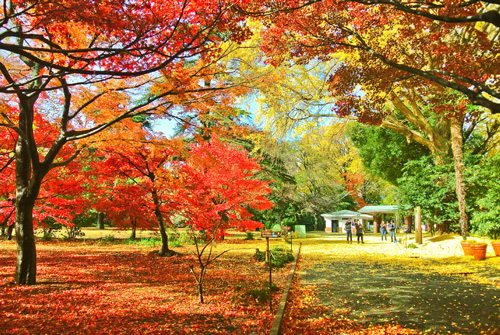 Comprehension Exercises
Vocabulary Questions
What does "showcase" mean?

perform a song
sell
exhibit, display



What does "amusement" mean?

feeling shocked
feeling entertained
feeling worried



What does "worshipper" mean?

person feeling great admiration
traveler on a ship
person who has a big family



What does "donate" mean?

buy something and then sell it
sell something at a lower price
give something for a good cause



What does "appreciate" mean?

recognize and respect the value of something
not understand the full worth of something
deeply believe in something

Collocation Questions
Some Imperial Palace parks are open to the __________

world

people

public





People go to the Yoyogi Park to __________ their hobbies.

practice
act on
exercise



Edo was Emperor Meiji's __________ residence.

permanent
unchangeable
indefinite



The palace is used for imperial court __________.

tasks
functions
roles


Edo's population quickly __________ one million.

beat
outdid
topped


There are two statues of __________ gods by the temple.
keeper
guardian
defender


Tokyo is an __________ city.

incomparable
unequalled
unmatched



The market provided food __________ the castle.

for
of
across



Today, the Emperor's power is __________.

figurative
illustrative
symbolic



Disneyland is a __________ park.

subject
theme
specialized

Wh Questions
Where did the trees in the Meiji Shrine forest come from?

all over Japan
the United States
Kyoto



When was Edo renamed Tokyo?

when the castle was built
when the Emperor moved to Edo
after World War II



Why does the Emperor greet the public on December 23?

because it is Christmas
because it is the National Day of Japan
because it is his birthday



How do people appreciate cherry blossoms?

they sit under the trees and celebrate
they pray
they plant more cherry trees


What is sold at the Tsukiji market?


cherry trees
fish
clothes

Evaluating Statements
Based on the information in this lesson, which statement is true?

Weddings are held in the Imperial Palace Shrine.
Weddings are held in the Meiji Shrine.



Based on the information in this lesson, which statement is false?

Sensoji is the largest Shinto temple in Tokyo.
Sensoji is the largest Buddhist temple in Tokyo.

True or False?
Based on the information in this lesson, is the following statement true or false?

"The Imperial Palace can be visited any day of the year with a special guided tour."

True
False



Based on the information in this lesson, is the following statement true or false?

"The Tsukiji fish market is as old as the Edo Castle."

True
False
Answer Key
1. C | 2. B | 3. A | 4. C | 5. A | 6. C | 7. A | 8. A | 9. B | 10. C | 11. B | 12. A | 13. A | 14. C | 15. B | 16. A | 17. B | 18. C | 19. A | 20. B |21. B | 22. A | 23. B | 24. A
Get Updates, Special Offers, and English Resources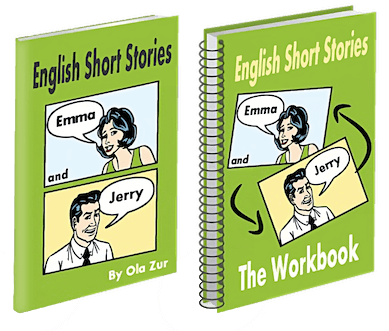 By submitting your email, you consent to receiving updates and newsletters from us and to the sharing of your personal data with third parties for the purposes of sending you communications. We will not spam you. You can unsubscribe at any time. For more information, please see our privacy policy.