Furniture Words (with Pictures)
English Vocabulary Lesson
This lesson will help you learn the names of common pieces of furniture. Furniture vocabulary will be divided into three levels: basic furniture words, intermediate furniture words, and advanced furniture words.

Furniture is one of the most important aspects of any living space. It can turn a room into a cozy home, or an empty space into an inviting office. Learning the different words for furniture can help us to talk about our living spaces and how we organize them.
Here are some common furniture words, with pictures to help you better understand them.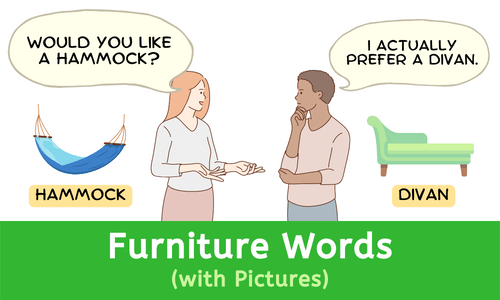 Lesson Table of Contents
Bed:
A piece of furniture where you sleep.
Table:
A flat surface used for dining, working, or other activities.
Desk:
A flat workspace used for studying or working.
Chair:
A piece of furniture where you sit.
Armchair:
A comfortable chair with places for your arms.
Couch:
A piece of furniture with a soft back and seat, where you can sit or lie down.
Dresser:
A tall piece of furniture with multiple drawers used for storing clothes.
Nightstand:
A small table next to a bed where you can store things.
Cupboard:
A tall piece of furniture with doors and shelves used for storing items such as dishes or clothes.
Bookcase:
A piece of furniture with shelves to store books.
Mirror:
A flat piece of glass used to reflect a person's image.
Wardrobe:
A large storage unit with a door and shelves used for storing clothes and other items.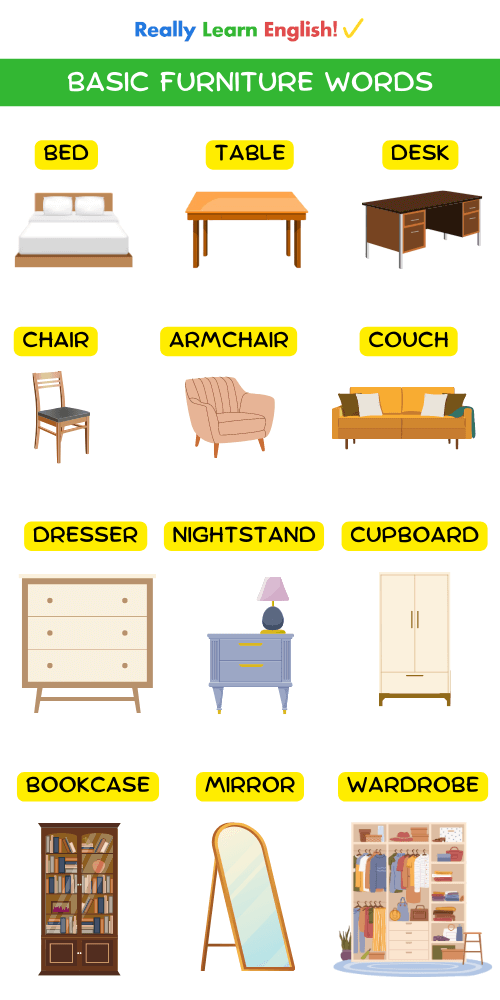 Bunk Bed:
A bed where two beds one on top of the other.
Crib:
A bed for a baby, usually with high sides to prevent the baby from rolling out.
Canopy bed:
A bed with posts at each corner and a fabric over the top. ("Canopy" is a cloth covering.)
TV stand:
A short stand where a television is placed. (A "stand" is a piece of furniture that is used to hold something up.)
Rack:
A structure with bars used for storing items such as clothes.
Sideboard:
A long, low piece of furniture used for storage and to display decorative objects.
Bean bag chair:
A soft comfortable chair made from filled fabric.
Rocking chair:
A chair that rocks back and forth when you sit in it.
Stool:
A seat without a back or arms.
Coffee table:
A low table used in a living room for things like books and drinks.
Vanity table:
A small table with a mirror and drawers used for cosmetics.
Desk lamp:
A light attached to the top of a desk.
Rug:
A small piece of cloth used to cover the floor.
Curtain:
A piece of fabric that hangs from a window.
Carpet:
A thick piece of material used to cover the floor.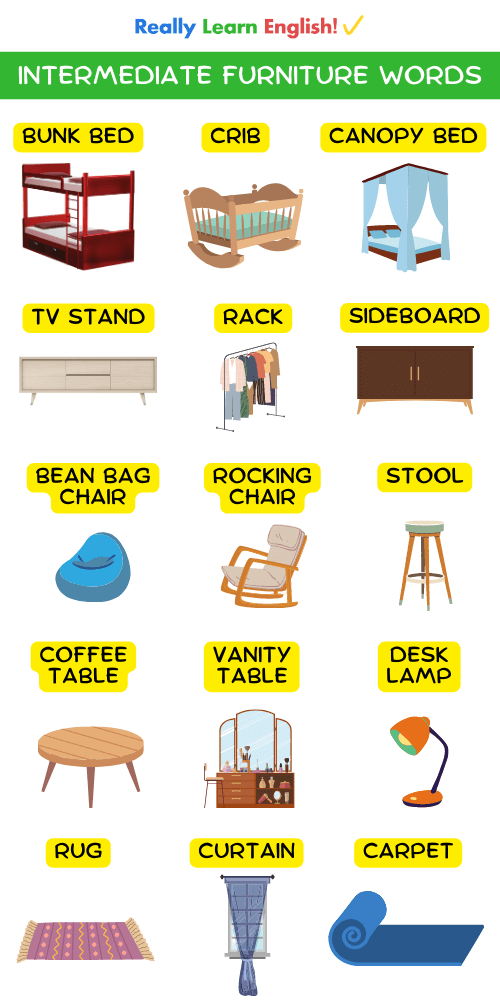 Loveseat:
A small couch designed for two people.
Divan:
A low sofa with no arms or back.
Lounger:
A comfortable chair in which you can lie back.
Papasan chair:
A round, bowl-shaped chair.
Hammock:
A fabric swing hung between two supports, used for relaxing.
Ottoman:
A small seat with a padded top.
Sconce:
A light attached to a wall.
Drapery:
Long pieces of fabric with folds, hung from windows.
Chandelier:
A beautiful light, hanging from the ceiling. It usually has several parts.
Cabinet:
A piece of furniture with drawers or shelves used for storage.
Easel:
A stand used for holding a piece of art.
Bassinet:
A small bed for a young baby.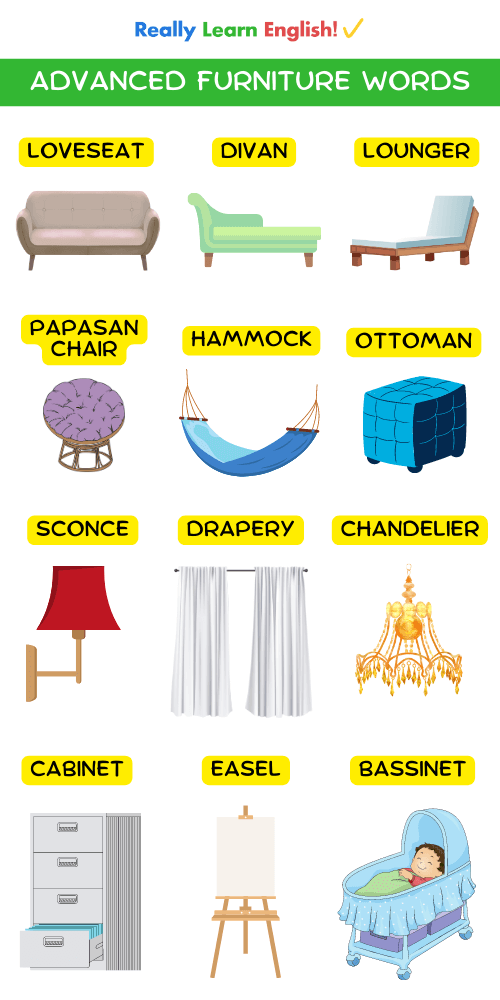 These are just some of the many furniture words that you might come across. As you learn more about furniture, you can explore even more words to learn and use.
Juan:
I'm on the lookout for a cozy new piece of furniture that will offer plenty of relaxation and style.
Gloria:
Is that so? That's a tall order. Have you considered a
canopy bed
or a
divan
?
Juan:
I think I'd prefer a
loveseat
, but I'm not sure.
Gloria:
A
loveseat
is perfect for two people, but it might be too small if you plan on having guests over.
Juan:
In that case, I think a
divan
would be the better option. What do you suggest?
Gloria:
A
papasan chair
or a
hammock
could work well in your space.
Juan:
Hmm, I think I'll go with the
papasan chair
. My cat will love it too.
Gloria:
Perfect. Now you just need to pick out some
sconces
, a
rug
, and maybe a few
ottomans
for extra seating.
Juan:
That sounds like a perfect plan. Thanks for all your help.
Gloria:
You're welcome. Happy shopping!
6-year-old Max and his mom are at the furniture store.
Max:
Mom, what kind of chair is this?
Mom:
It's called an
armchair
. See how it has armrests for your arms?
Max:
Oh, okay. And what about this one?
Mom:
That's a
rocking chair
. It moves back and forth when you sit in it.
Max:
Awesome! And what kind of bed is this?
Mom:
That's a
bunk bed
. It has two beds on top of each other, so two people can sleep in the same space.
Max:
Cool! But why is there a ladder?
Mom:
That's how you get up to the top bunk. You climb up the ladder.
Max:
I see. Thanks, Mom!
Mom:
You're welcome. Now go pick out some
curtains
and a
carpet
to match.
Max:
Sounds good! I'm on it.
Mom:
Alright, Max, let's get this furniture set up. First we need to assemble the
desk
and hang the
lamp
.
Max:
Got it! I'll get to work on that right away.
Mom:
Thank you. That's so sweet of you. Then we need to put the
rug
and
curtains
down, and set up the
coffee table
.
Max:
Okay, I'm on it!
Mom:
Once everything is set up, we'll be able to enjoy our newly furnished space.
Max:
Yeah! I can't wait. But why do we need a
vanity table
?
Mom:
The
vanity table
is for my cosmetics and grooming supplies. It'll make it easier to get ready in the morning.
Max:
Oh, that makes sense. Alright, let's get to work!
Mom:
Hold on, we need to move the
armchair
and
easel
first.
Max:
Alright, no problem! Let's do it.
Mom:
I can't believe you're being so helpful.
Max:
Hey, I'm happy to help out! Furniture must be perfectly placed for optimal comfort and convenience, right?
Mom:
You certainly got that right. I see you've learned from all those design shows you watch.
Max:
Hehe, guess so!
Get Updates, Special Offers, and English Resources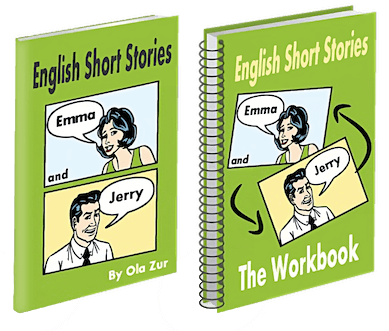 By submitting your email, you consent to receiving updates and newsletters from us and to the sharing of your personal data with third parties for the purposes of sending you communications. We will not spam you. You can unsubscribe at any time. For more information, please see our privacy policy.