English Short Stories Level 03
Story 02
April's Month

Click Here for Step-by-Step Rules, Stories and Exercises to Practice All English Tenses
There was a nice little girl. She was 10 years old. Her name was April.

One day, April asked her parents why she was called April. Her mother answered that she was called April because she was born in April. The little girl was very happy to hear that. She liked her name.

April really liked the month April, too. This was because she had her birthday in that month. Her parents made her a party. All her friends came and celebrated with her, and she received a lot of presents.

One day, her mother became pregnant and soon April had a little brother.  Her brother was born in February. Everyone came to visit the family. Everyone suggested names for the new baby.

April did not understand what the problem was. This looked very simple to her. She said that if the baby was born in February, the correct name was February!

| | |
| --- | --- |
| | The package contains funny simple short stories and many exercises for vocabulary and grammar. |
Previous Story | English Short Stories List | Next Story
Visit Vocabulary Activities section for more vocabulary action!
Visit Easy English Grammar section to improve your grammar!
Get Updates, Special Offers, and English Resources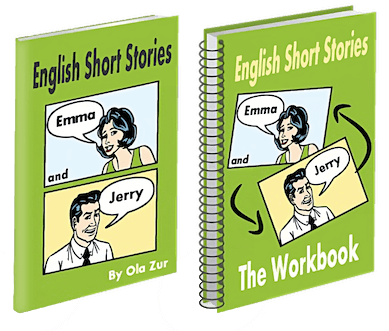 By submitting your email, you consent to receiving updates and newsletters from us and to the sharing of your personal data with third parties for the purposes of sending you communications. We will not spam you. You can unsubscribe at any time. For more information, please see our privacy policy.