English Short Stories Level 05
Story 07
Online Dating
 
Click Here for Step-by-Step Rules, Stories and Exercises to Practice All English Tenses
Amanda turns on her computer and opens her e-mail. She has a new message. She smiles. It is from Tall_and_Handsome34, a man Amanda met on FindNewLove.com, an online dating website. She really hopes to find a new love, and Tall_and_Handsome34 could be the right man for her!

Amanda reads the e-mail. Tall_and_Handsome34 asks Amanda if she would like to meet in person on Friday. He tells her his real name is Mike.

Amanda considers meeting Mike. She only chats with Mike on the computer, but she really likes him. He is smart and funny. They are the same age, share many interests, and live in the same city. She does not know what he looks like, but she enjoys the mystery of a blind date.

Amanda replies to Mike, "Hi Mike. My real name is Amanda."

They agree to meet at Amanda's favorite restaurant at 7:30 p.m. on Friday. They plan to meet beside the fountain in front of the restaurant.

On Friday, Amanda prepares for her date. She puts on a dress and curls her hair. She feels nervous and excited!

When Amanda arrives at the restaurant, she sees a tall man by the fountain. She cannot see his face.

"That must be Mike," Amanda thinks.

She walks toward the man.

"Mike?" Amanda asks as the tall man turns around. She sees Mike's face. She is surprised!

"Amanda Jones!" Mike exclaims. He realizes he knows her. Amanda Jones and Mike Miller dated in high school. "I cannot believe it is you!"

Amanda and Mike laugh and hug. "Well," Amanda thinks to herself, "sometimes you can find an old love too!"
| | |
| --- | --- |
| | The package contains funny simple short stories and many exercises for vocabulary and grammar. |
Previous Story | English Short Stories List | Next Story
Visit the Vocabulary Activities section for more vocabulary action!
Visit Easy English Grammar section to improve your grammar!
Get Updates, Special Offers, and English Resources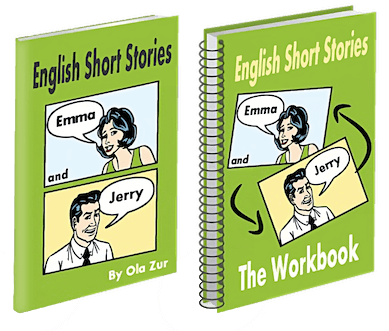 By submitting your email, you consent to receiving updates and newsletters from us and to the sharing of your personal data with third parties for the purposes of sending you communications. We will not spam you. You can unsubscribe at any time. For more information, please see our privacy policy.