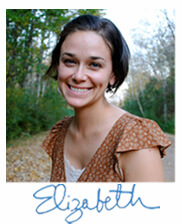 We're delighted to have the lovely Elizabeth O'Brien once again for another interview!
Since our
last interview
, Elizabeth has helped countless people to increase their grammar abilities and is currently producing a
documentary movie about grammar
!
So for all grammar and ESL teachers out there, here are some great tips and advice from Elizabeth herself.

A. Grammar can seem like such a huge and complex subject. Where's the best place to start?
That is a great question. I can relate to anyone who feels overwhelmed by the idea of learning grammar because that's exactly how I felt before I learned it.
But if you learn grammatical concepts
in the right order
, it's not complicated at all! Since many grammatical concepts build on each other, you'll be confused if you study them out of order.
So, the first thing you need is
a good guide
– a good teacher or textbook to keep you on the right track.
In studying grammar, the best place to start is by looking at the words that we use every day and studying the categories that those words fall into. That is what
the parts of speech
are.
The parts of speech give us a way to
categorize every word
that we use. When you know the parts of speech, you know what words can do and how they relate to each other.  
The best way to teach the parts of speech is by studying definitions, examples, and sentence diagrams of each one.

B. Can you share three tips for making grammar lessons more interesting?
Sure!
1)
Teach things in the right order.
I cannot stress this enough. If you teach concepts out of order, it is very confusing for your learners.
Whenever something gets too confusing, our minds wander, so you want to be sure that your lessons are graspable and appropriate for your students.
Teachers often make the mistake of teaching higher-level concepts before teaching lower-level concepts.
For instance, before you teach your students about gerunds, your students need to have a very clear understanding of verbs and nouns. If they don't know those lower-level concepts, they can't engage in the lesson, and it's a total bore.
2)
Bring your students' values into the lesson.
Make it personal. Use your students' names in example sentences. Make sentences that relate to things that they care about: books they enjoy, topics they have studied, sports that they play, places they want to travel, etc. You get the idea.
3) Don't be a hater.
If you hate grammar and find it to be a total snooze-fest, your students will too. Students pick up on your attitude, so do your best to look happy and delighted to be teaching grammar. Fake your own enthusiasm if you must. You shouldn't have to fake it for too long before you begin to enjoy it too!
*Bonus Tip* 4)
Use sentence diagrams. They're visually engaging and they're like puzzles. They make grammar much easier to understand because they show students how words and sentences work.

C. What are your top tools for teaching grammar?
At the very least, you need a simple, solid plan that teaches concepts in the right order. I find that integrating sentence diagrams into lessons is also a great tool. 
You can find many lessons, exercises, and sentence diagrams on the
Grammar Revolution website
. It's a valuable resource that thousands of people use every day. If you want something that systematically guides you through concepts, try the 
Get Smart program
. The Get Smart program guides you through topics in the right order, it gives you exercises and quizzes to test your students (and yourself!), and it includes some video lessons. The lessons are broken down into manageable chunks, and it takes only a few minutes to teach each day. By the time people finish the Get Smart program, they have a GREAT grasp of grammar and the parts of a sentence.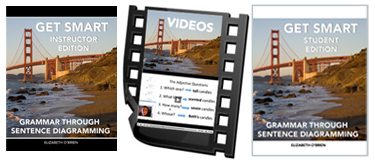 D. What is the worst mistake a teacher can make?
The worst mistake a teacher can make when teaching any subject is not understanding the material herself. You can't teach something if you don't understand it.
So, if you are teaching grammar, make sure you understand it. Without a solid understanding, you'll be paralyzed by difficult aspects of the subject, you'll struggle to set clear educational goals, and you'll fail to communicate ideas clearly.
If you don't understand grammar, you will hate every second of grammar instruction. You'll probably feel self-conscious about your own lack of knowledge, and that is a huge teaching barrier. Before you pour much time into trying to learn the topic, make sure that you are using clear and simple lessons. Having good teaching materials makes a huge difference.
Understanding grammar will help you become an excited, confident, and engaged teacher. You'll sincerely want to share fascinating and powerful information with your students. This is especially true if you're just learning the topic yourself. You and your students get to share your excitement of learning a new subject.
Remember, you don't need to know everything. It's okay if you're just a few steps ahead of your students as long as you
clearly understand the steps you are teaching them
.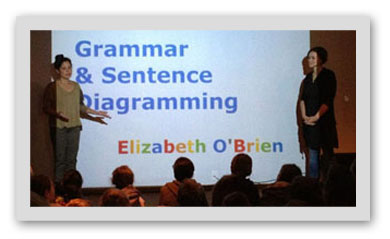 E. How do ESL teachers and students respond to your method of learning English grammar?
Over the years, I've heard from many students and teachers who have used my website and programs, and a large percentage of them are involved in ESL programs. I'll let them share their experiences in their own words! Here are some of the emails that I've received.  
"I am a new teacher of ESL. I LOVE your clean, straightforward technique, which is without too much jargon. Your energy makes the topic
fun
!"
– Sharri, ESL Teacher
"Over the past four months, I've been using
your program
almost religiously to teach my ESL kids (and myself!).
Our confidence has shot through the roof
. Being able to confidently dissect language directly impacts the way we write and formulate ideas. I find myself noticing so much more in writing, reading and speaking than I ever did before. My students are also coming out of this with a complete view of the structure of English – a feat that no other curriculum has ever delivered in such an
easy-to-learn way
."
– Chris, High School ESL/English Teacher 
"I am
really enjoying
the way you teach grammar. For me, grammar was so boring. I am more of a numbers guy; I feel more comfortable with them. I was trying to learn English, while I was living in my country, but there, it was only necessary for me to read computer manuals and other technical documents. When I came to this country, I started studying ESL at a college. I studied from intermediate level to advanced level, and although I passed the course, I never had the opportunity to practice, and I was forgetting my knowledge. I have now been working as IT Manager in an important company for almost 2 years. Here, I am learning a lot and trying to speak English with my coworkers, but there is the same problem, my grammar. Now, I can see the light thanks to your way to teach it.
Your course is amazing
, and now after many years, I can understand." –
Jose, English Language Learner
"I'd like to express my heartfelt thanks to you for Grammar Revolution. You have completely revolutionized grammar with diagramming, and my students found the lessons pretty easy and fun. Thank you for creating
incredibly easy and fun ways to teach grammar
. I really feel relaxed. I also use some video clips for my ESL learners to make them understand English easily." –
Dave, ESL Teacher

Thank you Elizabeth! It was great having you again, and the points you brought up are highly important.

To take advantage of Elizabeth's special resources you can visit the following links:
Get Smart Program
This program is perfect for busy teachers who want to give their students the best education possible. It is for fourth graders through adults. It assumes no prior knowledge and moves step-by-step through grammar and sentence diagramming.
Stay Smart Program: 188 Advanced Sentence Diagramming Exercises
Keep your grammar and sentence diagramming skills sharp. Your students can diagram one sentence per day in their workbooks, and you can quickly grade their answers with the answer key.
Sentence Diagramming Reference Manual
This is the kind of resource you'll reach for when you're first learning grammar and when you're a pro who needs a refresher. 
Sentence Diagramming Exercises
When you're done with these sentence diagramming exercises, you and your students will possess a powerful tool for using and understanding language.