Best English Blog Awards 2013
Picturebooks in ELT
Best English Blog Awards 2013 Nominee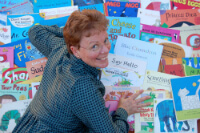 Blog name: Picturebooks in ELT, by Sandie Mourão
Blog's date of creation: 18 June 2010
Where are you located in the world: A small village in central Portugal
1. What do you think makes your blog special?
It discusses and shares different English picturebooks with a particular emphasis on visual as opposed to verbal aspects.
This is unusual in language learning contexts as we tend to focus on the words, the verbal aspect of authentic texts.
Picturebooks are vastly misunderstood and through my blog I wanted to help teachers understand them a little better, but also provide access to different titles they may otherwise never discover.

2. What is the most useful resource/page/section on your blog?
'Useful' is difficult to define.

For me I think the 'most useful posts' for teachers are those that provide information about the picturebook itself.
The two most visited posts of this nature discuss endpapers and peritext, two aspects of picturebooks which are less known in the world of ELT [English Language Teaching].
These are the links, both rewritten from early 2010 as the original posts disappeared as a result of technical problems (I lost ten posts from the early days).
Picturebook Peritext Other Bits

But if I was to look at the most visited posts over the last three years they have featured specific picturebook titles. I'll share four.

I am always surprised to find that the most visited post is one that discusses The Smartest Giant in Town (Julia Donaldson and Axel Scheffler). It has been visited three times more than any other post. It's a great picturebook, but not that great, so I've never worked out why it gets so much attention!
Recommendation 2: Smartest Giant in Town
The next most visited posts look at some slightly different picturebooks
Lost and Found (Oliver Jeffers) is a cute little story about a boy who finds a penguin. Together they discover the essence of friendship. This particular post also talks about the film of the picturebook.
Lost and Found: Story of Friendship
The House that Crack Built (Clark Taylor and Jan Dick) is a challenging picturebook for ELT contexts. A picturebook for older learners, teenagers in particular, and not at all cute. It is about drug abuse, a topic we rarely get to share with our learners, but which gets them talking animatedly.
House that Crack Built
Rabbits (John Marsden and Shaun Tan) is another challenging picturebook about the colonization of Australia. Very powerful and thought provoking, again an unusual approach to a lesser touched upon topic in language learning.
Rabbits Came Many Grandparents Ago
These last three 'well-visited posts' show me that I have succeeded in bringing lesser known picturebooks to the attention of visitors, that was one of my aims. I know from feedback from colleagues around the world that I've made a difference to the way they look at picturebooks.

3. How do you make lessons fun and engaging for your students?
I try whenever I can to value learners' interpretations of what they see and hear and encourage them to talk about their ideas and thoughts in English. As I am a teacher educator, I encourage the teachers I work with to see themselves as co-learners not know-it-alls in the classroom. For some teachers this is a difficult position to take. Using picturebooks can help teachers do this.

4. What are your top three suggestions for English learners?
1. Never forget how to look! As we grow older we begin to ignore the visual and take the verbal more seriously. This is a big mistake, so I remind all my learners that they should take both as seriously as each other.
2. Don't ever assume that picturebooks are for babies! This is the biggest of misconceptions. Picturebooks about drug abuse, death and teenage depression very clearly show they can be, and often are, for older learners.
3. Talk about your interpretations! Picturebooks, in particular quality ones, leave gaps for readers to fill and interpret using their past experiences of living in this world. What better reason to use English than to share what we think or understand about something we have encountered together in class.
5. Could you share some wisdom? What is the most common mistake you see English teachers make?
When using a picturebook a teacher will focus on what the words tell and ignore what the illustrations show. BIG mistake. Picturebooks use pictures and words to produce their message: together pictures and words create a total which is greater than the sum of the two parts. Don't ever ignore the pictures.