English Short Stories Level 03
Story 11
A Surprise from Australia

Click Here for Step-by-Step Rules, Stories and Exercises to Practice All English Tenses
The school ends and Erica quickly puts her books in the bag and runs out of the class.

Today is a special day. Erica is very excited. She runs home and thinks about her uncle. She spoke with him on the phone a week ago. He returns from Australia, and he brings a special surprise with him!

Erica is very happy. She thinks about the surprise that he brings.

"Maybe he brings a surfboard? That is fun! I can learn how to surf!"

"Maybe he brings Australian nuts? Oh, I can eat nuts all day!"

"Or maybe he brings a kangaroo? That is not good. I don't have a place in my room for a kangaroo…"

Erica finally arrives home. Her parents are there, and her uncle is there! She is very happy to see him. They hug and she jumps up and down.

"Uncle, uncle," she calls, "what special surprise do you have for me from Australia?"

"Well," her uncle smiles and answers, "I have for you an Australian aunt!"

| | |
| --- | --- |
| | The package contains funny simple short stories and many exercises for vocabulary and grammar. |
Previous Story | English Short Stories List | Next Story
Visit the Vocabulary Activities section for more vocabulary action!
Visit Easy English Grammar section to improve your grammar!
Get Updates, Special Offers, and English Resources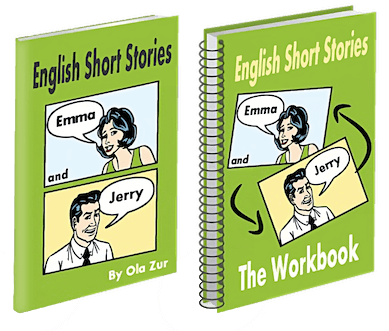 By submitting your email, you consent to receiving updates and newsletters from us and to the sharing of your personal data with third parties for the purposes of sending you communications. We will not spam you. You can unsubscribe at any time. For more information, please see our privacy policy.