English Short Stories Level 05
Story 04
A Secret Talent
 
Click Here for Step-by-Step Rules, Stories and Exercises to Practice All English Tenses
Eve is excited to go to her first Dylan Wyman concert in New York. Dylan Wyman is Eve's favorite singer. In fact, Eve tells her mother Jeannine, Dylan Wyman is her favorite

person

!

When they are about halfway to New York, Jeannine hears a weird noise. "Oh no," she says, realizing that they have a flat tire.

There isn't much room on the side of the road, but Jeannine pulls the car over and climbs out. Sure enough, their right rear tire is completely flat.

Jeanine opens the trunk to get the jack and the spare tire. Traffic continues to whiz by at seventy miles per hour.

"Mom, are we going to die?" Eve asks. She is really scared.

"Don't worry honey, I'll be quick," Jeannine says as she starts to jack up the car.

"Wow Mom, how do you know how to do this?" Eve is shocked at her mother's secret talent.

Then Jeannine takes off the flat tire.

"Wow Mom, how do you know how to do

that

?" Eve asks in wonder.

Jeannine just laughs. Then she puts the spare tire on. Eve says, "Mom, who

are

you?"

The entire tire change takes only 10 minutes. They both climb back into the car and Jeannine says, "I'm so sorry honey, but we can't drive all the way to Albany on this spare tire. We're going to have to stop and buy a new tire. We might be late for your concert."

"That's okay, Mom," Eve says, "You're my favorite person now!"
| | |
| --- | --- |
| | The package contains funny simple short stories and many exercises for vocabulary and grammar. |
Previous Story | English Short Stories List | Next Story
Visit the Vocabulary Activities section for more vocabulary action!
Visit Easy English Grammar section to improve your grammar!
Get Updates, Special Offers, and English Resources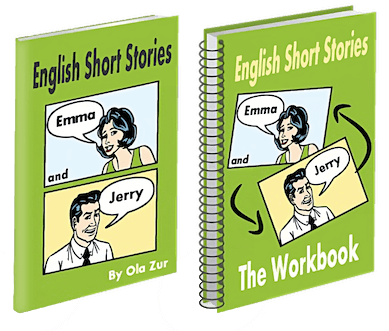 By submitting your email, you consent to receiving updates and newsletters from us and to the sharing of your personal data with third parties for the purposes of sending you communications. We will not spam you. You can unsubscribe at any time. For more information, please see our privacy policy.