English Short Stories Level 05
Story 05
Love is in the Air
 
Click Here for Step-by-Step Rules, Stories and Exercises to Practice All English Tenses
Every summer, Penny travels to a family reunion barbeque. Penny is never excited, and this year is no different. She dreads the drive.

She does not like talking to her relatives. And she does not like the smell of hamburgers. (Penny is a vegetarian.)

When Penny arrives, she sees lots of familiar faces. It is July and Uncle Vernon is wearing a sweater. Uncle Vernon is always cold. It's very mysterious.

She sees her cousin Polly. Polly has six children. The youngest one screams. Then the oldest one screams. Polly's children are always screaming.

She sees many of her other cousins in the field playing softball. They play a softball game every year, and it always ends in a big argument. Penny wonders, again, why they never solve it.

Then Penny sees an incredibly handsome man. She stares at him. He catches her staring. He smiles and walks over to her. Penny is very nervous. She is nervous because a handsome man is walking up to her and she is nervous because this handsome man might be her cousin.

The man sticks out his hand and says, "Hi, I'm Paul."

"Hi, I'm Penny," Penny says. "Are we related?"

Paul laughs. "No, we are not related. I am Vernon's nurse. He is sick and needs to keep me close by. But he did not want to miss this barbeque!"

"Oh, thank goodness," Penny says and then blushes. Penny always blushes when she is nervous, embarrassed, or hot, and right now she is all three.

Handsome Paul laughs and says, "Would you like to go get a hamburger with me? They smell delicious."

Penny smiles, "Sure. I love hamburgers!"

| | |
| --- | --- |
| | The package contains funny simple short stories and many exercises for vocabulary and grammar. |
Previous Story | English Short Stories List | Next Story
Visit the Vocabulary Activities section for more vocabulary action!
Visit Easy English Grammar section to improve your grammar!
Get Updates, Special Offers, and English Resources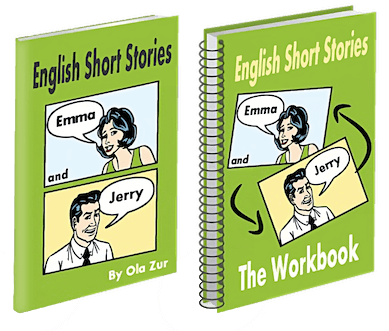 By submitting your email, you consent to receiving updates and newsletters from us and to the sharing of your personal data with third parties for the purposes of sending you communications. We will not spam you. You can unsubscribe at any time. For more information, please see our privacy policy.