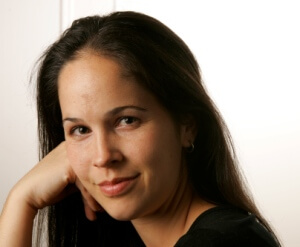 If you are looking to learn American English pronunciation then
www.rachelsenglish.com
is a fantastic place to visit! It is full with free online step-by-step guidance. You can find there videos, charts, diagrams, blog posts and exercises. And it's all clearly organized so you won't get lost in that wealth of materials.
Rachel has built quite a following, both on her
YouTube channel
and on
Facebook
, and she's helping countless people to improve their American English pronunciation.
So I am very happy to have her answering some questions for the benefit of everyone's English accent…
1. You have such an incredible site! It's a true paradise to someone who wants to improve his or her accent. How did it all start?
It all started when I was in Germany studying German at a language institute. I had classmates from all over the world, and some of them were interested in English too. I was talking one day with a friend from Turkey, and I taught him how to make the AA sound. He said, "You're really good at that." That gave me the idea.

2. Is it really possible for a foreign person to accomplish a natural American accent?
I think it is really hard and takes a very specific skill set, but I have met a few people who sound native who did not grow up around English. I think a musical background is helpful: a fine-tuned ear, the ability to mimic the pitch, rhythm, and character of a language. Though most people who did not grow up around English won't have a completely native accent, anyone can improve.  It's a matter of understanding the concepts (mouth position for a sound, reduction and linking) and then drilling them into muscle memory over and over.  It is helpful when possible to have a coach to check it with to keep you on the right track. 

3. According to your experience, what is the most difficult new sound for students?
This really depends on what the student's native language is. I have probably taught more people from South Korea than anywhere else, and getting the R and L correct is a big challenge!

4. At which stage of the English study process should a student start "worrying" about having a proper accent?
In an ideal situation, students are getting good pronunciation coaching at the same time they start learning English (learning from a native, or someone with a very good accent). If you learn words but are saying them poorly, that is just another thing that will have to be unlearned and relearned later. As soon as a student of English is able to obtain and understand pronunciation material, that is the time to work on it! Then less time will be used to correct bad habits later. 

5. According to your experience, what are the best types of exercises for correct pronunciation?
Exercises that focus on just one or two things at a time, and that have a lot of repetition.  For example, if I am working with someone who mixes up or mispronounces R's and L's, I will have him/her read a passage holding out that sound every time it appears: "RRRRachelllll rrrreads slllllowllllly." I don't worry about linking, reduction, other sounds, etc. Being comfortable with the sound in isolation and drilling that movement into muscle memory has to happen before naturally integrating that sound into conversation. 

6. You also offer a "1-on-1" service. Could you tell us more about it?
I offer two different 1-on-1 services.  The first is an evaluation, where a student sends me a video reading a text, and I spend time analyzing mistakes. I'll then make a video response where I will edit in parts of the student's video to illustrate the problems. Understanding one's issues are an important first step. I had one very motivated student who took her evaluation, and with that information knew exactly what to work on and did just that, resulting in an unbelievable improvement in her accent. 
The second service is private pronunciation coachings through Skype. These have been very popular and so at times I don't have space in my schedule to take new students. It is a lot of fun ... I get to learn so much about other cultures while helping people improve their accent.

7. What are you doing when you are not helping students improve their American English pronunciation?
I think some people will be surprised ... in addition to my website and pronunciation lessons, I currently work for a non-profit in Manhattan that provides affordable housing.  For relaxation, I love cooking and especially baking. I am lucky to live close to a major Farmer's Market in Manhattan, and think it's important to eat food grown locally when possible. I am also a huge classical music and theater fan – NYC is a great place to live for that!

8. Where in the globe can we find you?
New York City.

9. Any future projects you are working on?
A have A LOT of ideas for new resources I can bring my users on
Rachel's English
, including audio courses that I hope to start working on after the New Year.   
Wow, some great advice right there. Thanks a lot for sharing, Rachel!
And I'll leave you with a sample of Rachel's work: a video where she teaches English expression and the correct American English pronunciation for it.